New Delhi, April 18

On the last day of filing nominations, both the Congress candidates, Jai Prakash Agarwal, the chief of Delhi Pradesh Congress Committee (DPCC) and Ramesh Kumar, former MLA of Majhipur assembly constituency of West Delhi, today filed their nominations at the deputy commissioner's election office at Nandnagri and MG Road here for the North East and South Delhi parliamentary constituencies respectively.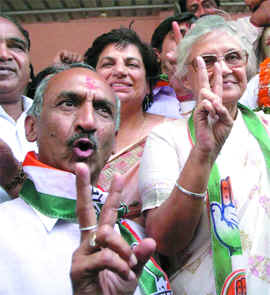 Chief Minister Sheila Dikshit accompanied both Agarwal and Ramesh Kumar to their nomination stations in a bid to add her charisma to the campaigns of both newly declared candidates. Agarwal went to the DC's office at Nandnagri along with his wife, Sarita Agarwal, Seelampur MLA Mateen Ahmed, Mustafabad MLA Hasan Ahmed, Timarpur MLA Surender Pal Bittoo and others.
Then at MG Road, Ramesh Kumar was accompanied by his brother Sajjan Kumar, Kalkaji MLA Subhas Chopra, state education minister Arvinder Singh Lovely and former mayor Satbir Singh. As per the affidavit of Ramesh Kumar, he owns a Honda City and has agricultural lands worth Rs 80 lakh and Rs 40 lakh at Rajokhri village. Again, he possesses a commercial plot and parental property of Rs 40 lakh and 75 lakh at Jasola village and Kotla respectively. In addition to this, Ramesh declared that he holds Rs 60,000 in cash along with fixed and current bank deposits of Rs 6,03,111 lakh and Rs 2.66 lakh respectively.
Agarwal has cash of Rs 30,800 and banks deposits amounting to Rs 9,51,015. Besides, he possesses gold jewellery of approximately 70 grams valued at Rs 1,05,000. He also has wealth in the form of bonds, debentures and shares of Rs 4,200. He also has two apartments of 650 sq ft and 1054 sq ft, which stands at market value of Rs 10 lakh and Rs 15 lakh respectively. In addition to this, he has a commercial property of approximately 200 sq yard, which stands at Rs 14 lakh.
The BSP candidate for North-East Delhi seat, Haji Dilshad Ali, who was arrested for attacking a police station, after getting a bail filed his nomination papers from the Tihar Jail.
Meanwhile, the chief electoral officer of Delhi, Silas Singh Bedi informed that in total 221 candidates are taking the test to the seven Lok Sabha seats on May 7.
The break-up for the total nominees is 44, 25, 30, 22, 25, 55 and 20 for Chandni Chowk, East Delhi, North-East Delhi, North-West Delhi, West Delhi, North Delhi and South Delhi respectively. Besides, the city is also holding by-election in Rohtasnagar assembly segment, where 11 nominations have been filed.
Tribune News Service